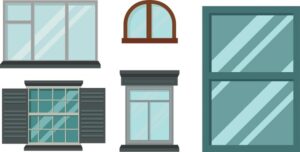 As a homeowner, there are a few features that can make or break your heating and air conditioning bills, and your windows are in the top three. Adding new, energy-efficient windows can give you huge benefits to your bills, but it also helps your home in more ways than just that. New windows are something that a potential buyer may be more willing to act for, as they ensure that the house is in good condition. Along with the increased value to your home, new windows offer several benefits we wanted to share with you today.
Better Insulation
One of the first benefits of new windows is that they can help keep your home far more comfortable regardless of the outdoor temperature. Old windows tend to get drafty over time, and when you invest in newer options, this will be a past problem.
Environmentally Friendly
Because they allow for more consistent indoor temperatures, you'll have to use less power, which is excellent for the environment. Additionally, many newer windows are of a high enough quality that you'll have to replace them less frequently, reducing the amount of waste you will need to produce.
Protect Your Home
Did you know that UV rays can damage items within your home? Textiles and many other materials such as wood floors, wall paint, and even plastic can be affected by the sun, causing fading and also increased wear. Newer windows often come with built-in UV protection that keeps your home and family safe while still letting in plenty of natural light.
Less Noise
If your loud neighbors or busy street are keeping you up at night, the inmate soundproofing quality of new windows will help you get a restful slumber. Most ambient noise is found to be reduced significantly when new, efficient windows are installed. If you live in a townhome or in an area where the homes are close together, this benefit can be invaluable.
Reduced Maintenance
Energy effect windows come with several traits that allow them to be low maintenance. To start, because of their natural insulation, there are fewer risks of condensation and mold growth. Second, they stay cleaner longer and tend not to show water spots, making your to-do list one item shorter!
Depend on Leland Fisher Lumber For Your Lumber and Hardware Needs!
Leland Fisher Lumber is full-service lumber and hardware supplier. We've serviced homeowners and professional contractors in Montgomery County, Howard County, and Frederick County since 1894! Whether you want to remodel your home or upgrade your business, we have the professionalism and expertise to make any architectural vision come to life. Contact us at 301-424-6500 and follow us on Facebook, Twitter, and Pinterest.