Designer Showroom
There's nothing like the real thing. Catalog pages and photos of our products simply can't compare to seeing our windows and doors in person. In our designer showroom, you can see just how any of our Andersen Windows or exterior and interior doors will look and feel inside your home.
Our product experts will walk you through all the options available to you and encourage you to test the feel of our windows and doors. In our designer showroom, you can:
Compare wood species to determine which shades will match your existing wood.
Feel and test hardware on doors and windows to determine your preference.
View exterior colors available for Andersen Windows.
Compare architectural styles of doors.
See how window and door hardware and locks will mix and match with varying styles.
Fisher Lumber's Designer Showroom Features:
400 Series Tilt-Wash Double-Hung Andersen Windows
Double-hung windows with two sashes in a single frame remain flush within the wall when open, making them ideal for placement near walkways, patios or doors. The Andersen 400 Series is highly energy efficient and available in a range of decorative options.
400 Series Casement Andersen Windows
For an unobstructed view, the 400 Series Casement Window from Andersen features dual-layer bulb weatherstripping to seal out the elements. Open and shut all locking points with a single motion using the single-actuation handle.
200 Series Double-Hung Andersen Windows
The 200 series is available in the best-selling, most common sizes with the most popular options for décor. For low maintenance exteriors and tilt-wash sashes for easy glass cleaning.
Other Sizes and Options from Andersen Windows
Therma-Tru Entry Doors
Therma-Tru exterior doors are preferred by builders and remodelers more than any other exterior door brand. The Therma-Tru brand is known in the building industry for high performance in energy efficiency and comfort.
Simpson Exterior Doors
Depending on your application and price range, Simpson manufacturers doors from solid construction, or engineered construction that provides strength and long lasting quality.
Masonite Exterior Doors
Masonite offers exterior fiberglass doors, steel doors and glass doors. This range of construction materials is useful when trying to match your architectural scheme and budget.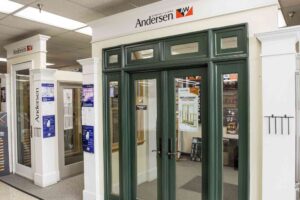 Simpson Interior Doors
With wood species and design options to complement any home or remodeling project, Simpson's line of interior doors is a popular choice for construction projects that call for all wood interior doors.
Masonite Interior Doors
The most popular brand for interior doors among builders, Masonite interior doors are known for innovative door designs and a range of options to meet any budget or design.