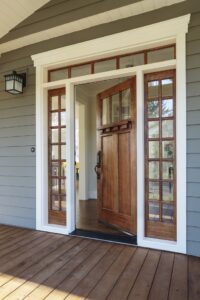 Exterior doors are an essential part of owning a home. The perfect door can add to curb appeal, make your home more energy-efficient, and increase your home's value. Most importantly, exterior doors keep you and your family safe. With proper installation, thieves or trespassers won't be an issue. There are so many available options, making it hard to know exactly where to begin but Leland Fisher Lumber can help you with that! We offer exterior doors through Therma-Tru, Simpson, and Masonite. We also provide hardware. Keep reading for some tips for buying an exterior door.
Does Your Door Need Replacement?
Damages such as cracks, warping, rotting, and scratches help to make your exterior door look less visually degrading and helps to degrade the wood over time. If the damage is severe, then you'll need a new exterior door. Rotting and warping are the most obvious signs.
Also, you can check for drafts by using the flame test. If you hold a lit candle, match, or clicker by your door and then you notice that the flame flickers, then there is a draft. Drafts make your HVAC work much harder, increasing your energy bill.  There are ways to seal a drafty door, but if they are older, then it may be time to replace them altogether.
Key Door Terms
Panels: Rectangular patterns used to showcase the interior of your home, curtains, or valances

Inswing: A door that opens from the inside

Outswing: A door that opens from the outside

Lite: Refers to glass

Casing: Door Mouldings

Stop: A strip of wood used around the door's interior to control how far it swings
Picking the Perfect Front Door
Your guests take in your front door as they enter your home. You want it to be stylish and complement the home's architectural design scheme, but practicality should come into play as well. Wooden doors are classic but come with a lot of maintenance over time if they begin to rot or warp. Steel is strong, durable, and energy-efficient. Fiberglass is energy-efficient due to foam installation, incorporates wood grain into its design, and is super affordable.
Storm Doors and Hardware
Storms doors add an extra layer of protection so that your home will be more secure and not susceptible to drafts or energy loss. Hardware such as locks and doorbells are essential for designing an exterior door. You can also include decorative glass to bring more sunlight in or add knockers,mail slots, and handles to make your exterior doors more aesthetically pleasing and functional.
Depend on Leland Fisher Lumber For Your Lumber and Hardware Needs!
Leland Fisher Lumber is full-service lumber and hardware supplier. We've serviced homeowners and professional contractors in Montgomery County, Howard County, and Frederick County since 1894! Whether you want to remodel your home or upgrade your business, we have the professionalism and expertise to make any architectural vision come to life. Contact us at 301-424-6500 and follow us on Facebook, Twitter, and Pinterest.