As engineered lumber, or composite lumber, has come into wider use, Fisher Lumber has expanded our selection to include everything from floorboards to beaded ceilings. We carry the top engineered wood product brands, including TREX, AZEK, Georgia Pacific and Reddeck.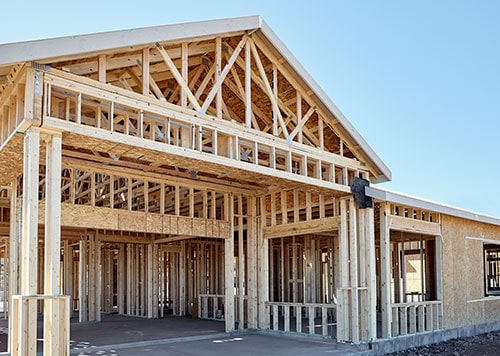 Fisher Lumber's selection of engineered lumber and wood products includes:
AZEK PVC panels
AZEK beaded ceilings
AZEK trim boards
James-Hardie fiber-cement siding
MDF panels and shelving
MDO primed panels
Oriented strand board sheathing and flooring
T&G porch flooring
TREX composite decking
Louisiana Pacific engineered floor joists and LVLs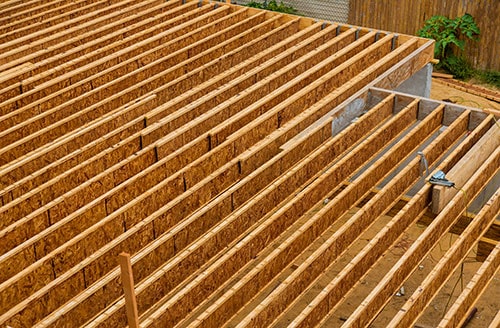 What is engineered lumber?
Engineered lumber or engineered wood is typically made from particles of wood bound together with an adhesive such as resin or plastic. It offers the resiliency and workability of natural wood with the added benefit of resistance to rot, decay, and corrosion.
Engineered wood has been widely used for generations, with plywood and glulaminated timber as the first commonly used materials. In recent years, new forms of engineered wood have become much more widely used, particularly as an alternative to treated lumber in exterior construction, such as decking and railings. The unique textures and coloring available in some newer forms of engineered lumber also offers design options for outdoor construction previously unavailable in natural wood materials.
Should you use engineered lumber in Maryland?
Particularly in the climate of Maryland, with our humid summers, cold winters and variable temperatures, more and more builders and homeowners are turning to engineered lumber for its improved weatherproofing and resistance to rot and decay.
What are the benefits and disadvantages of engineered lumber?
Engineered lumber has a number of benefits over traditional wood, including:
Resistance to rot, decay and corrosion
Insect resistance
Does not require painting or staining
Available in multiple shades and colors, ranging from reddish browns to grays.
While engineered wood does offer some benefits over traditional wood lumber, there are several key reasons that builders use traditional wood instead. Cost is the biggest factor in choosing traditional wood over engineered wood. Wood also offers a higher strength and stiffness, making it more suitable for most load-bearing applications.
How is engineered lumber made?
Although the major manufacturers of engineered lumber have their own unique production methods, most engineered wood is made by thoroughly mixing wood fiber and wood flour with heated thermoplastic resin. This raw material is then extruded or injection molded into the desired shape.
During manufacturing, engineered lumber is able to be molded and shaped to meet nearly any design or specification. For example, engineered lumber can be bent and fixed to form stronger arching curves.
What makes engineered lumber sustainable?
Considered a "green" or sustainable material, engineered lumber can be constructed from recycled plastics or waste products from wood processing.