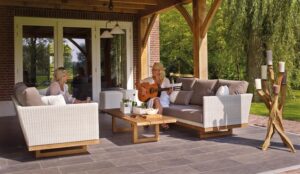 Maybe you haven't thought about this, but doors are one of the most used parts of your home. You utilize doors to exit and enter the interior and exterior of your home, including your patio. Here at Leland Fisher Lumber, we offer a wide variety. Our partnering manufacturers include Masonite, Simpson, and Lemeuix to name a few. We offer French, glass, fiberglass, and wooden doors to suit your unique needs. Keep reading if you want to learn about five considerations you should make when picking out a patio door.
1) Assess the Dimensions of Your Patio
If you're thinking of installing a French or swinging door, then make sure that you have a lot of space. The doors need room to open. You also want to make sure that your patio furniture isn't blocking the entryway. Wall structure is also a determinant for picking a patio door. If your space is limited, a stationary panel with just one swinging door can help you achieve the design that you want. Sliding doors also fit well in tight spaces.
2) Choose a Wide Doorway
Outdoor living spaces such as patios are beautiful and perfect for entertaining guests. Why not show off your patio properly? A wide doorway assures that you and your guests can enter and exit your home comfortably, but it also helps make your patio a focal point and gives you greater access to the outdoors. Foldable patio systems are worth researching along with looking up how to integrate multiple French and swinging doors into your design.
3) Choose Energy Efficient Glass
If you have a glass door in mind, you want to be sure that it is energy efficient and isn't susceptible to UV fading. Tempered glass is stylish, will give you privacy, but it lets in a lot of natural light.
4) Pick a Durable Material
With any product, going for one that is low-maintenance is beneficial. If you plan on using your patio door as your home's primary entryway, you want to make sure that the door is easy to clean and not prone to wear and tear because of high traffic. Fiberglass can withstand the weather, and there's no need to paint it continuously.
5) Quality Matters
A patio door is essential when it comes to the aesthetics of your home. Make sure to choose a material that complements both the interior and exterior of your home. For example, if cedar wood is a part of your architectural design, its best to use highly durable lumber or high-end fiberglass to match the interior.
Depend on Leland Fisher Lumber For Your Lumber and Hardware Needs!
Leland Fisher Lumber is full-service lumber and hardware supplier. We've serviced homeowners and professional contractors in Montgomery County, Howard County, and Frederick County since 1894! Whether you want to remodel your home or upgrade your business, we have the professionalism and expertise to make any architectural vision come to life. Contact us at 301-424-6500 and follow us on Facebook, Twitter, and Pinterest.