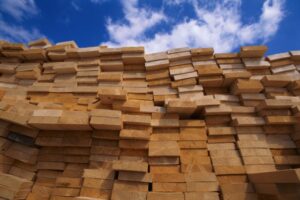 If it's your first time purchasing lumber, then you may not even know where to begin, especially when buying it from a distributor or lumberyard. The good thing is that Fisher Lumber is here to help you. We're a full-service lumber supplier that can help you with any questions that you may have regardless if you're a homeowner or a contractor working on a construction project. We offer high-quality SPF lumber that isn't defective and is versatile, ranging from ACP pressure-treated lumber to cedar, poplar, pine, and oak. While we'll help you narrow down what you need upon contacting us, you should still read these tips for purchasing lumber.
Know How Thick You Need the Lumber to be
When buying hardwood, you'll know how thick it is via a measurement in quarters. While it's natural to look for inches, this measurement isn't applicable for lumber. A board that is one inch thick measures as 4/4. Because lumber is sawed down and dried, you want to keep in mind that these measurements won't be exact.
Board Foot
A board foot measures the volume of your hardwood. Distributors sell lumber in various lengths, widths, and levels of thickness. Measuring volume is the easiest way to account for all of these variables. To calculate the capacity of a board foot, you need to know how thick the lumber is, its length, and how wide it is as well and multiply these measurements together to calculate your results.
Know the Grade of Lumber You Need
Understanding what grade you need can be complicated if you don't normally purchase lumber, but it all depends on your project. Using lumber for a commercial project contrasts to using it to upgrade an interior or exterior door. The grade determines if defects will be visible or not. One of the highest lumber grades is #2 common. Fisher Lumber offers #2 pine, which is ideal if you're looking for a durable, tightly knotted wood.
More on The Kinds of Lumber Fisher Lumber Offers
ACQ Pressure-Treated Lumber: This kind of lumber is ideal for outdoor construction, and is insect and fungal repellant.

Cedar: Cedar lumber works for both indoor and outdoor construction and age well when it comes to fencing,

decking

, shingles, or custom millwork for your furniture.

Clear Radiata Pine: This classic pale or tan wood is defect and knot free and ideal for the interior of a home and extremely affordable.

#2 Common Pine: Common pine accentuates the natural look of wood but remains durable.
Other Lumber We Offer
T&G Pine

Primed Windsor one Lumber, Poplar and Oak

Plywood